OSCAR News - February, 2Ø1&Oslash
OSCAR Meeting
The next OSCAR meeting is 13-Feb @ 9:00 AM, the second Saturday of the month. Meetings are held in the meeting room at the Owatonna HyVee, 18th Street @ Oak Avenue.
SKYWARN Meeting
The next SKYWARN meeting is 16-Feb @ 7:00 PM, the third Tuesday of the month. Meetings are held at the Owatonna Fire Station.
OSCAR Technician Class
The 2010 OSCAR Technician Class is scheduled to start 09-Feb. We will follow the same format as the past couple of years, six 2-hour sessions, a review session, and the VE session. All sessions will be held at the Owatonna Fire Department and begin at 7:00 PM. Sessions are four consecutive Tue/Thu: Feb 09, 11, 16, 18, 23, 25, and Mar 02. The VE session will be held on 04-Mar. The class is free, the ARRL License Manual is approximately $25, and the VE session is approximately $15.
Elmer Session
The January OSCAR meeting included a discussion on how to help individuals after the class. The ARRL did a survey of individuals that purchased the License Manual. A couple of statistics from the survey:
77% preferred to "try to understand as much background information as possible to be able to answer the questions".
16% preferred to "study the questions and correct answers and get my license, then learn more later".
29% took advantage of some form of classroom instruction.
66% felt well-prepared to begin operating after receiving their license.
53% indicated that "hands-on instruction with the help of someone who is experienced" would be the most helpful after receiving their license.
To help address the last bullet, OSCAR added an Elmer Session to the schedule. It is planned for 18-Mar (Thursday) from 7:00 PM to 9:00 PM. Anyone looking for some help on an Amateur Radio related question are invited to get some general help from the OSCAR membership. This is open to anyone with a problem related to Amateur Radio.

CERT Annual Meeting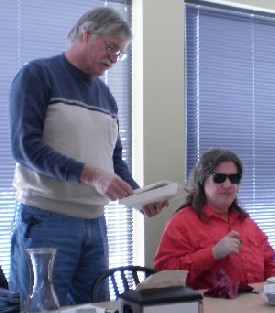 CERT has many volunteers cross trained in Amateur Radio and SKYWARN. Steele County and Owatonna used the 07-Jan meeting to thank the many volunteers, regardless of the groups they participate in. Recognition was provided to several amateur radio operators:
Matt KAØPQW was awarded the Gold President's Volunteer Service Award.
Chris NØCPG was awarded the Bronze President's Volunteer Service Award. Chris was also recognized for 5 years as a CERT member and achieving his certification as an Emergency Manager.
Mo KCØWPZ and family was awarded the Bronze Family President's Volunteer Service Award. Mo was also recognized for 5 years as a CERT volunteer.
Nate KDØGVN was elected to the CERT board.
Kathy KDØGVO was elected to the CERT board.
We appreciate the many, many volunteers across the various Citizen Corp groups for the dedication and hours of service to the community.

145.490 Machine
Marv NØFJP was able to secure two batteries for the repeater. Marv passed the batteries to Tom NØUW to ensure a working system before installation at the site. Unfortunately, the charger intended to be used was determined to be inappropriate for the application. Research is now progressing on an alternative charging method.

Technician Question Pool
The new Technician Class question pool was released by the National Conference of Volunteer Examiner Coordinators (NCVEC). This pool becomes effective on 01-Jul. Like the previous pool, approximately 400 questions are included, with new questions including schematics.

MN Youth ARC From Ron KØFTB
Ron K0FTB I don't know much about this new organization but it may be a good central place to post your activities. MNYARC is starting a collective calendar for all amateur radio groups to list events training etc.

Y2K + 10 From Multiple Sources
Remember all of the concern 10 years ago about clocks not rolling over properly on 01-Jan-2000? Several OSCAR members were up at the stroke of midnight back then seeing if the lights went out. It ended up being pretty much a non-event. Ten years later, there are several reports of applications not properly rolling over properly from 2009 to 2010. Millions of German bank cards were affected by a "millennium bug"-like problem because software can't process the number 2010. Symantec's Endpoint Protection Manager product was erroneously marking signature updates with a date after 31-Dec-2009 as out of date. Microsoft's Windows Mobile OS had reports of text messages sent after 2009 were dated 2016. It is a good thing that old Timex of mine took a licking and kept on ticking.

Satellite Operations
Clint Bradford K6LCS was recently at the Bloomington ARA giving a presentation on satellite operation. Clint's web site has information on how to work satellites with an HT. There also is a link to the pdf of the presentation he gave.

MARS From ARRL
The Military Affiliated Radio System (MARS) was given a new name with the same acronym: Military Auxiliary Radio System. Using the Civil Air Patrol and Coast Guard Auxiliary as examples of auxiliaries, the military defines a "military auxiliary" as "an organized body of volunteers prepared to supplement the uniformed services or any designated civilian authorities by provision of specialized autonomous services when called upon or when situations warrant". MARS has routinely provided communications support for health and welfare for the military service. In addition, MARS will now provide contingency radio communications in support the US government and civil authorities. MARS membership is open to qualified active duty, Guard and Reserve personnel, those in civilian agencies, and qualified private US citizens.

US LORAN-C From Multiple Sources
LORAN is an acronym for the words long-range navigation developed during WWII. Transmissions in the 90 to 110 kHz band are made from 24 stations operated by the Coast Guard. LORAN-C was the standard navigation system for ships and served as a supplemental navigation aid for aircraft. Position is calculated by the time difference between the receipt of signals from a pair of LORAN-C transmitters with 1/4 mile accuracy. With the common use of GPS equipment, LORAN-C is becoming obsolete. Most US LORAN-C transmission stations will be turned off on 08-Feb. Transmitters in AK, MN, an MA will continue as part of international agreements with Russia and Canada.

Wireless Microphones From PC World.com
Unlicensed wireless microphones have operated in unused TV spectrum for years. When the 700MHz spectrum was auctioned off, wireless mikes operating in that band had their days numbered. About 300 wireless broadcast devices must stop being used by 12-Jun.

Narrowband Deadlines From FCC
There is a migration taking place in the 150-174 MHz and 421-512 MHz bands. All equipment certified since 1997 has been required to have a 12.5 kHz operational mode. Beginning 01-Jan-2011, the FCC will no longer accept applications for new wideband 25 kHz operations. Two years later, on 01-Jan-2013, licensees must operate on 12.5 kHz or narrower channels.

FCC Comments From Multiple Sources
The FCC is asking for feedback on how it might improve. In order to solicit input, the www.rebootfcc.gov web site was launched. There are five key elements of FCC reform for public discussion and feedback. The website is intended to become a forum to receive suggestions, but also provide education to the public.

The End of POTS? From PC World
We completed the FCC orchestrated change from analog TV to DTV in 2009. A future transition may be the move to IP-based communications for telephones. AT&T responded to a Notice of Inquiry suggesting the end to the plain-old telephone service ("POTS"). The number of U.S. households solely on mobile phones doubled between 2006 and 2009. A quarter of U.S. households no longer have a landline of any kind. One of the remaining strengths of a standard POTS landline is the fact that in most cases the POTS line maintains a dial tone during power outages and emergencies. Interaction of a broadband line and emergency services (911) has problems with correctly identifying a physical location. This can cause a delay in getting timely emergency service. Broadband providers have solutions for short-term power outages and are working on improving the interaction with 911 calls.

Commercial Mobile Alert System From Television Broadcast
The next generation of a public alert system includes technology standard for mobile communication devices. The standard includes an interface enabling wireless carriers to provide emergency alerts via cell phones and other mobile devices. The intention of the FCC and FEMA is to deliver up to 90-character text messages. The system could be used for Amber alerts, regional warnings, and national emergencies. The mobile service providers that participated in the CMAS design specs have a 28-month period to develop, test and deploy the system.

FCC Staff Engineer From Multiple Sources
One would figure FCC leadership would have access to technical expertise. Apparently not. A bill is working its way through the senate to add one "staff engineer" in each office of the five FCC Commissioners. This reverses a relaxation of requirement for technical staff that began more than a quarter century ago. The new position requires a degree in electrical engineering or be a computer scientist.

MagicJack Femtocell From PC World
A femtocell allows a cell phone to be connected to and used on something other than the network of a wireless carrier. With a femtocell, a cell phone could be connected to a less expensive local land line or broadband connection. MagicJack unveiled a femtocell at the Consumer Electronics Show, claiming it complies with Part 15 rules. Part 15 allows products to operate in licensed frequencies without a license if they use very low power to prevent interference, but they must be FCC approved. One interesting statement by MagicJack was permission is not needed from the wireless providers to use cell phone frequencies within the home.

Sunspots From Wired
During 2009, there were only slightly more than 100 days with sunspot activity. This is the third quietest year on record, with 2008 recording the second least number of days. Putting the two years together illustrates how deep and long this solar minima has been. December shows a glimmer of hope as solar activity was noted on 22 days.

Printed Battery From Science Daily
A printable battery is being developed that can be produced using a silk-screen printing method similar to that used for t-shirts and signs. The battery weighs less than one gram and less than 1/16-inch thick. The battery layers a zinc anode and a manganese cathode, which react with one another and produce electricity. The 1.5V "cells" can be put together to form 3V, 4.5V and 6V batteries.

No Booting From NASA Tech Briefs
Just like in your hard drive, scientists have wanted to use ferroelectric materials in transistors. The result could mean "instant-on" computing because the operating system would not have to be stored on the hard drive. Researchers are taking a well-known oxide, strontium titanate, and depositing it on silicon in such a way that the silicon squeezes it into a ferroelectric state. This result could prove key to creating next-generation, low-power, high-efficiency memory devices.

Single-Atom Transistor From Science Daily
There is no doubt the physical size of electronic components is continually being driven to become smaller. The unanswered question is determining how small some components can become. Research has driven the size of the transistor down to a single atom. This is accomplished by tunneling electrons thru a phosphorus atom to the source and drain leads of the transistor. New problems arise at this level due to quantum mechanical effects. On the other hand, the irrational behavior may provide more efficient computing, quantum computing.

Electronic Kits From Radio World
For many hams, part of the hobby has been making things out of spare parts or purchased kits. Heathkit was a major supplier of electronic kits for the general consumer and ham radio. If you're searching for a modern day source of do-it-yourself kits, check out MakerShed.