OSCAR News - May, 2ØØ9
OSCAR Meeting
The next OSCAR meeting is 09-May @ 9:00 AM, the second Saturday of the month. Meetings are held at the Happy Chef at US-14 West and I-35.
SKYWARN Meeting
The next SKYWARN meeting is 19-May @ 7:00 PM, the third Tuesday of the month. Meetings are held at the Owatonna Fire Station.
Local News

Chris ex-KDØGVV is now sporting a new vanity call - NØCPG.
Congratultions to Jeff KDØHGM on his new license.
Congratultions to Brian KDØHGN on his new license.
Dan KCØUOR lent a hand making sand bags in the Red River area.
Who Is That Masked Man?
Want to put a face with some names but haven't been able to get to an OSCAR meeting? Look at the bottom of this newsletter. Jr NØOJL visited the April meeting and took a couple of pictures. We appreciated the submission.
NIMS Training
NIMS is a standardized approach to incident response and management. It establishes a uniform set of procedures that volunteer and professional responders use in a disaster situation. It is strongly recommended that all volunteers complete two FEMA courses on NIMS. IS-100 and IS-700 are designed to help you understand the organizational order followed in incident response. Without this background information, responders to an incident may not understand the why and how incidents are managed. Training can be completed on-line or through a formal class setting. Steele County Emergency Management is sponsoring an IS-700 class on 06-May and an IS-100 class on 07-May. Both classes will begin at 6:00 PM at Steele County Public Health, 635 Florence Avenue. Registration is encouraged by calling Jane Nyquist at 444-7661.
Fox Hunt
There will be a Fox Hunt on 06-Jun. All are welcome to participate, as this is a multi-club event. The hunt starts at high noon at the City Park in beautiful downtown Hayward, east of Albert Lea. A picnic will be held at 5:00 PM. Everyone is asked to bring a dish to pass. Talk-in on 146.52 simplex. From Owatonna:
I-35 South to I-90 East.
I-90 East 4 miles to Cnty 26 (Exit 163).
Cnty-26 South 0.8 miles, across the railroad tracks, to Front Street.
Front Street East 0.2 miles to Main Street.
Main Street South to City Park. Look for the water tower.
EOC Update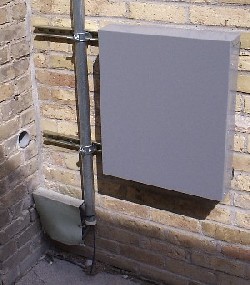 The next step for additional commuication capabilities at the EOC was completed 18-Apr. Several runs of coax were run from the roof of the EOC and terminates before entering the building. An enclosure with lightning arrestors is mounted at the base of the coax runs. With the lightning protection in place, the coax runs into the building can be completed. Thanks to Marv NØFJP, Jeff KCØUOW, Tom NØUW, and the City of Owatonna for helping complete this step.
Emergency Communications Course From ARRL
The ARRL has offered a series of Emergency Communications Courses over the past several years. The courses are configured in three levels. The ARRL is redesigning the courses, replacing both the current Level 2 and Level 3 with a new Advanced course. The new course is expected to be released in late 2009.
What Is A Repeater? From ARRL Letter
The FCC clarified a previous ruling that a digital repeater such as D-STAR is not a repeater. The original definition erred on the statement that a digital repeater does not simultaneously retransmit. This led to D-STAR repeaters using frequencies not otherwise allowed for repeater operation. The Commission clarified that even if there is a slight delay between what is received and what it transmits, it is considered simultaneous if the receiver and transmitter are both active at the same time.
Lightning Protection From ARRL Contest Update
With thunderstorm season right around the corner (except where it's already here), some reading about lightning protection is in order. Both ICE Radio Products and Polyphaser are well-known in the ham community and have extensive listings of products and application information. Polyphaser also publishes the book "Lightning Protection and Grounding Solutions for Communications Sites".
Water Generator From Wired
The Self Generator is designed to harness water flowing from your faucet into electricity. The water passes through a turbine, with a goal to generate enough power for an electric toothbrush, a shaver or a hair dryer. It has a way to go to get there.
Earth-Venus-Earth From AR Newsline
German hams claim to have bounced signals off the planet Venus. Morse code was used to transmit "HI." Travelling almost 100 million kilometers round trip prodcued a 5 minute delay in the echo. Calling it EVE, it represents another milestone for ham radio.
CFL and Lupus From KSTP
The increasingly popular CFL bulbs use less energy and last up to 10 times longer. One symptom of Lupus is a sensitivity to light. Research suggests the ultraviolet rays emitted from the bulbs can negatively affect individuals with Lupus, epilepsy, or migraine headaches.
Project Roll Call From Radio World
The FCC and FEMA plan to make more use of a system that measures broadcast transmissions before and after a hurricane. Project Roll Call is a joint program with FEMA that uses data collected by commission field engineers equipped with spectrum analyzers to measure disaster broadcast activity within a 30 mile radius before a threatening event, and again afterwards. This will establish a baseline of station activity prior to the event to give emergency managers an immediate idea of who is on the air broadcasting critical information to the public. After the disaster, they go back in to determine if any stations may need some help. Project Roll Call was implemented three times in 2008. The system also can measure public safety, wireless phone and other critical infrastructure communication systems, such as two-way communications. Project Roll Call is is not intended for use after unforeseen emergencies.
NASA Digital Learning Network From NASA
NASA has added Amateur Radio to it's Digital Learning Network. To help prepare the students for an ARISS experience, NASA has generated a series of teaching modules for the students. They have three different packages available suitable for students in K-4, 5-8 and 9-12 grades.
Air Navigation From Weather Underground
A recent blog by Jeff Masters related a story of using Amateur Radio during an Artic research flight some time back. The communication life-line to the outside world was HF radio (ham radio), which relied on Earth's ionosphere to bounce signals. During the flight, the HF reception failed. The pilot periodically climbed from 1,500 feet to 25,000 feet in order to try to establish communications. HF communications were never established. The failure was later determined to be an intense geomagnetic storm that generated an auroral display at dark.
CFL vs. LED Lighting From Several Sources
LED lights replacing CFLs was last reported in the August Newsletter. The UK recently banned the standard tungsten bulbs, forcing the country to move to CFLs. But the light could soon go out on those lamps as scientists have discovered a cheaper way to produce LED bulbs.
Gallium nitride (GaN) LEDs have many advantages over compact fluorescent lamps (CFLs) and incandescent bulbs. They switch on instantly, with no gradual warm-up, and can burn for an average of 100,000 hours before they need replacing - 10 times as long as fluorescent lamps and some 130 times as long as an incandescent bulb. CFLs also contain small levels of mercury, which makes environmentally-friendly disposal of spent bulbs difficult.
Gallium nitride cannot be grown on silicon like other solid-state electronic components because it shrinks at twice the rate of silicon as it cools. Crystals of GaN must be grown at 1000°C, so by the time a new LED made on silicon has cooled, it has already cracked, rendering the devices unusable. One solution is to grow the LEDs on sapphire, which shrinks and cools at much the same rate as GaN. But the expense is too great to be commercially competitive. The new process includes layers of aluminium gallium nitride in the LED design. The layers shrink at a much slower rate during cooling and help to counteract the fast-shrinkage of pure gallium nitride. These LEDs can be grown on silicon as so many other electronics components are.
CFL Transmitter From AR Newsline
'Low energy' light bulbs are renowned for causing radio interference. What about turning one into an 80-meter transmitter for Amateur Radio. AA1TJA describes how to convert a compact fluorescent lamp into a 1.5 Watt QRP CW transmitter for 3.5 MHz. The only additional components required were the quartz crystal, and four of the five components needed for the output low-pass filter.
A few words of caution regarding the handling those compact fluorescent lamps or any fluorescent lamps for that matter. The glass section of these lamps contain some pretty toxic chemicals that you will really not want to come in contact with. Also, be very careful to avoid shattering the glass as its very easy to suffer a deep gash from the shards and find yourself in a hospital emergency room as a result.
11-Apr OSCAR Meeting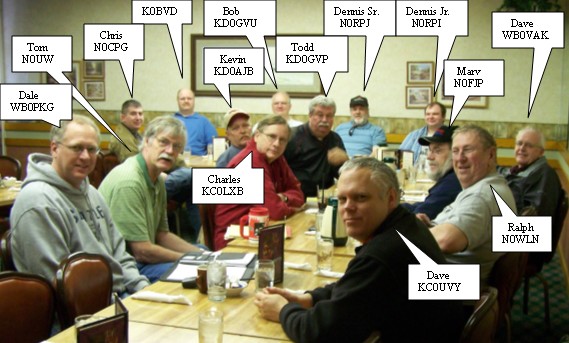 Missing from the pictures, of course, is that masked man, NØOJL.