OSCAR News - November, 2ØØ8
OSCAR Meeting
The next OSCAR meeting is 08-Nov @ 9:00 AM, the second Saturday of the month. Meetings are held at the Happy Chef at US-14 West and I-35.
SKYWARN Meeting
The next SKYWARN meeting is 18-Nov @ 7:00 PM, the third Tuesday of the month. Meetings are held at the Owatonna Fire Station.
Technician Class
The Albert Leas ARC is sponsoring a Technician Class beginning 04-Nov. Class sessions will be on Tuesday and Thursday evenings, 6:30 to 8:30 PM, 04-Nov through 20-Nov (six sessions). All sessions will be at the Freeborn County Red Cross office (1608 West Fountain Street) in Albert Lea. There is no charge for the class. Study materials are available via the Internet, or can be purchased at the class.Students are encouraged to pre-register via email to RadioClass@pobox.com. Registration or questions can also be handled by telephone at (507) 826-3304. A VE session is scheduled for 02-Dec.
VE Session
OSCAR will support the Albert Lea Technician Class by sponsoring a VE session on Tuesday, 02-Dec. Tests will be administered by Willis KAØKEL, Paul WØFEI, Deuel NSØL, and Tom NØUW. Contatc Tom NØUW if you are interested in helping out in future sessions as a VE.
Global SET From AR Newsline
The next Global Simulated Emergency Test will take place on Saturday, 08-Nov. The operation will take place from 04.00 to 08.00 UTC on and near the established emergency communications Center-of-Activity frequencies on 80, 40, 20, 17 and 15 meters. The exact frequency will be determined after the start of net operations based on band activity and local QRM. The objectives of the test are to increase interest in emergency communications and to test how usable the Center-of-Activity frequencies are across all ITU regions. It's also meant to create practices for international emergency communication and rehearse the relaying of emergency communications messages using all modes permitted to radio amateurs world-wide.
Please remember that this is not a contest. Rather it is an emergency communications preparedness activity. A list of participating stations will also be available at www.raynet-hf.net.
MN Citizen Corps Conference
The 2008 Minnesota Citizen Corps Conference, Friday and Saturday, November 14-15, 2008. The agenda is evolving, but the location is set. The conference will be held once again at the U of M Continuing Education and Conference Center on the AG Campus in St. Paul. Check MN HSEM for more information about the conference. Pre-registration is required.
OSCAR Elections
The December OSCAR meeting will include elections of OSCAR officers for 2009. Nominations are being accepted for this traditionally tightly contested election, which often includes recounts performed by Dade County (FL) officials. The incumbent President (Dale WBØPKG) has served since 2005, and indicated a willingness to continue. Serving since 2003, the Secretary (Tom NØUW) also indicates a willingness to continue. A Treasurer is required to be elected, as Paul WØFEI indicated his intentions to retire.
EOC Enhancement
Dave KCØUVY, Mike KDØDKC and Dale WBØPKG ran two additional coaxes to the ground from the two unconnected antennas on the Fire Hall roof. These two antennas were installed last year but didn't get the coaxes run before the snow came. Dale installed connectors on the coaxes. Mike and Dave were the pack mules with carrying up the 500 foot spool of coax to the roof and also connected up the coaxes to the two antennas (Ringo Ranger and a homebrew J-Pole). Dave also provided comic relief. Both antennas were checked with an antenna analyzer and both tested acceptable. Efforts to run coax into the building were thwarted due to the size of both the hole in the wall and conduit running on the inside wall of the boiler room. A larger hole in the wall, as well as larger conduit will need to be installed before completing the coax runs to the radio room. A good time was had by all and only about 2 hours of a Saturday morning (times three) were expended.
Sunspot Doldrums From NASA
Astronomers who count sunspots have announced that 2008 is now the "blankest year" of the Space Age. NASA Science News says that as of 27-Sep, the sun had no visible sunspots on 200 days of this year. To find a year with more blank suns, you have to go back to 1954, when the sun's disk was devoid of sunspots 241 days. The prognosis for increased solar activity seems dim, as sunspot counts are at a 50-year low and that we are experiencing a deep minimum of the solar cycle.
New Spot From AR Newsline
On the opposite side of the above story is news of a new sunspot. Whats being called a 'new-cycle' sunspot belonging to Solar Cycle 24 has shown itself near the stars northeastern limb. The new spot, now designated as SSN 1005 was reported over the weekend of the 12th and 13th making this the third time in as many weeks that a new-cycle sunspot has interrupted the year's run of blank solar activity.The accelerating pace of new-cycle sunspots is viewed an encouraging sign by astronomers and hams alike. For radio amateurs, it seems to be saying that while solar activity remains very low, the sunspot cycle is unfolding more or less normally. In other words, we are not stuck in a prolonged solar minimum.
Sunspots vs. Hurricanes From Nature
A new study suggests that more sunspots mean less intense hurricanes on Earth. A climatologist at Florida State University analyzed hurricane data going back more than a century. He says he has identified a 10- to 12-year cycle in hurricane records that corresponds to the solar cycle, in which the Sun's magnetic activity rises and falls on a roughly 11-year cycle. The idea is that increased solar activity - associated with sunspots - means more ultraviolet radiation reaching the Earth's upper atmosphere. That warms the airs aloft and decreases the temperature differential between high and low elevations that otherwise would fuel hurricanes.
Health and Welfare Traffic From ARES e-Letter
One of the reasons for the Steele County SET for 2008 was to pass different types of messages. Part of the exercise was to classify messages and decide how or if to pass them. Keith Robertory KG4UIR, Disaster Service Technology Manager, American Red Cross provides some guidance on Amateur Radio's role in Healthand Welfare Traffic and the American Red Cross.
"General welfare messages are processed through the Red Cross Safe and Well Web site. This site allows people to register their status,which can be checked by friends and family who search by your name, address or phone number. A quick look at the Web site will show how both the registration process and search are done.

"As few as two hams can set up an effective registration process. A ham located in the disaster zone can use any mode to transmit the basic Safe and Well registration information to another ham located outside the disaster area who would enter the information on the Web site. This quick ad-hoc setup doesn't rely on any affiliations and can be established by a call out to another ham who can help.

"The Red Cross also processes welfare inquiry messages that contain specific medical information. These contain more sensitive and personally identifiable information at the same time that the Red Cross keeps confidential to respect client privacy. We are researching if and how these messages can be passed across open frequencies, and what federal restrictions (such as HIPPA) may impact how this is done."
Twin Cities Marathon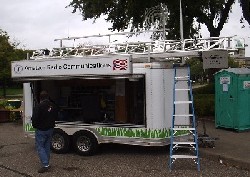 Amateur Radio plays a big part in maintaining communications during the Twin Cities Marathon. The September Newsletter, mention was made of a QST article on the use of D-Start during the marathon. The use of analog equipment was evident and could be monitored along the course. While wandering the capital fairgrounds, one of the EMCOMM trailers was spotted. You can click on the image at right to see a larger image.
Near Vertical Incidence Skywave (NVIS) From ARRL Club News
Near Vertical Incidence Skywave is a propagation mode which uses high angle radiation to send signals (almost straight up) to be reflected back to Earth for very effective short to medium haul communications. NVIS makes reliable communications effective for a range out to 500 miles on frequencies below 10 MHz. Often a low dipole is all that is needed to accomplish reliable communications, allowing NVIS to be an excellent choice for emergency communications. Because antennas for NVIS do not have to be mounted high, a complete antenna package including coax and support poles and antenna can be packed into a duffel bag ready to be deployed whenever and wherever needed. Going back to the Rushford flooding in 2007, one of the post-disaster ideas was to use NVIS. Getting a 2-meter signal out of the valley to Winona was difficult.
FEMA ESF #2 Communications From ARES e-Letter
oNE component of the National Incident Mangement Systrem (NIMS) is the National Response Framework (NRF). NRF presents the guiding principles that enable all response partners to prepare for and provide a unified national response for disasters and emergencies. A component of the NRF is the Emergency Support Function (ESF), which are central to the operations of any EOC. ESF #2 covers "Communication". In addition to understanding the National Incident Mangement Systrem (NIMS), amateur emcomm operators should be familiar with ESF #2. This can be accomplished with a new FEMA on-line course.
Spectrum Auction From PC World
The U.S. Federal Communications Commission has proposed new rules for auctioning a block of spectrum intended for police and fire departments that previously failed. The proposal again auctions the so-called D block of spectrum to a private company with a requirement to build a nationwide voice and broadband network shared by public safety agencies and a commercial service. The proposal sets the cost of monthly service for each public safety worker at $48.50. FCC Commissioner Michael Copps is quoted "A network that is too expensive for first responders to use is little better than no network at all".
Keystroke Radiation From PC World
Computer keystrokes can be snooped from afar by detecting the slight electromagnetic radiation emitted when a key is pressed, according to new research. The researchers tested 11 different wired keyboard models produced between 2001 and 2008, including some with USB (Universal Serial Bus) connectors and keyboards embedded in laptops. All were vulnerable to one of four surveillance methods. Two videos posted show two different experiments, both of which accurately picked up the typed text. The first video shows a white Logitech keyboard with a PS/2 connector that was attached to a laptop for power. It was monitored with a simple 1-meter wire cable about a meter away. After typing "trust no one" on the keyboard, the same phrase is returned on the researchers' monitoring equipment.In a second video, a larger antenna picked up keystrokes through an office wall. All told, various experiments shows they could monitor keystrokes from as far as 20 meters away.
JVC, Kenwood Complete Merger From Radio World
JVC and Kenwood have integrated their management by establishing "JVC Kenwood Holdings Inc.," which they're calling JVC Kenwood HD, through a stock transfer. On Oct. 1, JVC Kenwood HD became the parent that owns all JVC and Kenwood shares; the new company is listed on the Toyko stock exchange in place of the separate companies. As previously reported, the merged companies hope to target their efforts in the car consumer electronics space for rapid growth and to better fend off rivals.
Kenwood was established in 1946 in Nagano, specializing in radio assembly and repair; according to a company history, it produced an advanced high-frequency coil by taking advantage of its location surrounded by mountains, where radio waves were weak. The high-frequency technology became the base of a business in FM tuners and amateur radios. JVC, or Victor Company of Japan Ltd., traces its roots to the creation of the Victor Talking Machine Company in 1927. Innovations include Japan's first TV receiver and the VHS video standard.
40-meters in Alaska From AR Newsline
On Monday, October 20th, the League filed a Petition for Modification or Cancellation of Experimental Authorization with respect to license WE2XRH. This is an experimental license issued to Digital Aurora Radio Technologies that proposes to test digital transmissions in 4.50 to 5.10 MHz, 7.10 to 7.60 MHz and 9.25 to 9.95 MHz bands for a terrestrial digital radio service to the citizens of Alaska.The ARRL says that its interest in this matter is limited to the fact that the experimental license includes the band 7.1 to7.3 MHz. This is a spectrum parcel that is allocated domestically exclusively to the Amateur Radio Service. The ARRL indicated there is a 100% certainty of severe, continuous, harmful interference from Digital Aurora Radio Technologies operation of the facilities as authorized by the Commission to ongoing Amateur Radio operation in the 40 meter band.
Antenna Traps From Contest Rate Sheet
This information from Cushcraft discusses how to troubleshoot common problems of antenna traps. Originally written assuming the use of a grid-dip meter, it has been recently updated to apply to the use of antenna analyzers, as well.
Learning Morse From AR Newsline
Learn CW Online is a new website to learn and practice Morse telegraphy. All you need is a web browser. This gives the user the opportunity to practice CW wherever an internet connection is available. It also lets users retain their personal settings, scores and statistics.
PocketMod From ARES E-Letter
With all of the features available on the newer radios, sometimes a cheat sheet is needed to remember how to access those little used features. Pocketmod takes up to 8 full size pages,turns them into a single sheet of paper, which folds into a pocketsized booklet.