OSCAR News - October, 2ØØ8
OSCAR Meeting
The next OSCAR meeting is 11-Oct @ 9:00 AM, the second Saturday of the month. Meetings are held at the Happy Chef at US-14 West and I-35.
SKYWARN Meeting
The next SKYWARN meeting is 21-Oct @ 7:00 PM, the third Tuesday of the month. Meetings are held at the Owatonna Fire Station.
Steele County Drill
Steele County had a successful drill on 12-Sep. The details of the drill were covered in the Owatonna Peoples Press. Except for the table top exercise, Steele County RACES/ARES was not involved in the actual exercise that took place at the Owatonna High School. RACES/ARES conducted a Simulated Emergency Test (SET) related to the scenario for the county drill. Participating in the SET was Willis KAØKEL (as evaluator), Dave WBØVAK, Dave KCØUVY, Mike KDØDKC, Dale WBØPKG, and Tom NØUW. Marv NØFJP helped in the preparation, but could not participate in the drill.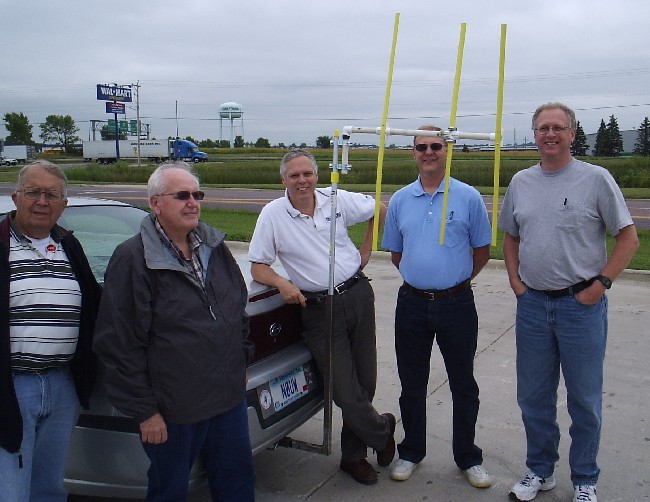 The objectives of the SET were:
Develop the capability of point-to-point digital communications.
Demonstrate the knowledge of formulating messages in ARRL Radiogram format.
Practice the passing of messages over digital and voice modes.
The group met at 1:00 for discussion and assignments. Dale WBØPKG, Mike KDØDKC, Willis KAØKEL were assigned to the 26th Street campus of Owatonna Hospital. Dave WBØVAK operated from his home QTH. Dave KCØUVY and Tom NØUW worked from Trinity Lutheran Church. Each group was provided a set of information to be passed at periodic intervals. With each message, the team had to formulate a message in Radiogram format, determine the proper mode to pass the message, and successfully pass the message. Messages were passed for approximately 30 minutes and then the group met for a debriefing, ending before 3:00.
The group successfully achieved all of the objectives.
Thanks to all that helped make the 2008 SET a success.
Interestingly, but maybe not a surprise, the inability to communicate reliably was one of the weaknesses identified by the professionals during their part of the drill. A significant indicator of the role that Amateur Radio can play in the event of a real disaster event. Let's hope we are not called upon, but we need to be prepared in case we are. Thanks to all that helped make the 2008 SET a success.
Basics of Soldering Class
Another Soldering Class will be held on October 18, 2008 at 9am at Crane Chapel in Austin, MN. It will be FREE for all club members. Non-club members will be charged $10. The fee is to help cover the cost of the kits and the class will be limited to 20 students. This is a first class learning situation. Just ask Mike KC0YQU or Justin KD0BFO, what they thought of last year's class. The class will be taught by Al N0RZO (Retired Electronics Professor at Riverland Technical College). Please sign up by October 10, 2008. Contact John KB0SPM at 433-9654 or kb0spm@arrl.net.
FCC Phishing From Multiple Sources
The FCC has received complaints that non-government entities may be using Internet sites to misdirect parties seeking to submit their regulatory fee payments in order to collect financial information. Since Amateur Radio licenses are free (except vanity), this should not be an issue. The FCC does remind everyone to be sure that Internet payments are properly directed to the Commission's authorized Internet website.
ARRL EMCOMM 3 Course From ARRL
The ARRL is going to revise the Level 3 Emergency Communications course. The course is being revised and is expected to be available in the first quarter of next year. ARRL will not be accepting any field exams conducted for the current Level 3 material after October 1 of this year.
ARRL On-Line Auction From
The Third Annual ARRL On-Line Auction kicks off October 23, running until November 1 on the ARRL Web site. This is your chance to pick up one-of-a-kind Amateur Radio items. To see what the Auction will offer this year, be sure to check out the Auction preview that begins October 16.
Sunspot Delay From AR Newsline
The false start announced last year for the new Solar Cycle 24 has been followed up with speculation of things like `double dip' minima and even a new ice age for sunspots. But let's try to stay positive and not subscribe to thoughts of another minimum of 70 years, as occurred from 1645 to 1715, the only flat-lining in sunspot cycles since records. The prolonged solar minimum is also occurring at a time of reports in the northern hemisphere of continued sporadic-E enhancement on both the ten and six metre bands. The latest prediction is that Cycle 24 will be begin in mid 2009.
TinyCAD From Radio World
This is an open-source schematic capture program for Windows, available for free from Source Forge. The program helps you draw circuit diagrams and comes complete with symbol libraries to get you started. In addition to being able to simply print your designs, you can use TinyCAD to publish your drawings by copying and pasting into a Word document, or saving as a PNG bitmap for the Web. You can also use TinyCAD as a front end to a PCB layout program, by getting TinyCAD to create a netlist of your circuit. For help and support, go to the Yahoo! group called TinyCAD. In this group you can talk to other TinyCAD users. It's an excellent place to start if you are new to the program.
Tower Hoisting From Contest Rate Sheet
Use a "snatch block" at the bottom of a tower when hoisting an antenna to the top. A snatch block is a second pulley mounted at the bottom of the tower so that the rope runs along the tower, through the pulley, and then parallel to the ground. The snatch block allows your helper (who really does the work of lifting the antenna) to walk out away from the tower where it's safer and it eliminates putting a side force on the top mast or gin pole.
IKEA Solar Panels From Multiple Sources
IKEA plans to pour $77 million into clean-technology start-ups within the next five years and could add "green" goods such as solar panels to its inventory. Ikea spin-off company Greentech wants the retail giant to start selling the products in Ikea store in two to four years. One of the biggest hurdles to solar power is cost. If Ikea can drive those prices down, and also make them easy to buy, solar could really be coming to the mass market.
Recycling PCBs From Science Daily
Scientists in China developed a new recycling method that focuses on reusing fibers and resins of waste printed circuit boards (PCBs) that were thought worthless to produce a variety of high-strength materials. Although metals from the circuit boards, such as copper and aluminum, are recycled, landfill disposal has been the primary method for treating their nonmetallic materials. The researchers developed a process to recycle the nonmetallic materials to produce diverse items like sewer grates, park benches and fences. The recycled material could also be a substitute for wood and other materials since it is almost as strong as reinforced concrete.
Wi-Fi Antenna From CGC Communicator
Want to increase the coverage of your Wi-Fi? Check out this project (and other antenna projects) at www.freeantennas.com
Storing Sealer From Contest Rate Sheet
Storing Liquid Electrical Tape (LET) cans in a small fruit jar extends the life of the material almost indefinitely. Presumably by preventing slow evaporation of the solvents that keep it fluid. Tubes of RTV sealant can be kept in plastic food storage containers. The idea here is also to prevent the curing process from proceeding by limiting exposure to air.
WWV Privatization From Low Noise
Word on the street is that the National Institute of Standards and Technology is close to signing a Lease Management Agreement with Clear Channel Communications for its flagship Time and Frequency station WWV, Fort Collins, Colorado. Saying that the old format is "dull and predictable", Clear Channel Radio's consultants have demanded some changes to the sound of the station, which broadcasts time of day, standard frequency, and other information 24 hours per day. Additionally, WWV's traditional modulation level of 50 percent for the steady tones, 50 percent for the BCD time code and 75 percent for the voice announcements was deemed "not loud enough." The station will reformulate itself as "The Tick." The station has already added some snappy new announcements to the rotation, which can be heard by clicking the clock.
Disaster Information Reporting System From Radio World
The Public Safety and Homeland Security Bureau of the Federal Communications Commission launched a voluntary, Web-based information system last year. The Disaster Information Reporting System (DIRS) can be used by wireless, wireline, broadcast and cable providers to report the status of communications infrastructure during crises. Updated information through DIRS concerns the status of equipment, restoration efforts and power, such as whether the provider is using commercial power, generator or battery and has access to fuel. in Florida in response to Tropical Storm Fay this week. DIRS was activated in Florida for hurricane Fay and then deactivated when Fay was downgraded to a tropical depression.
USB Power Outlet From ARRL Contest Update
If you're building a remote station or using the USB interface as part of your shack automation efforts, then you might find this Isolated USB-controlled power outlet project from the Instructables Web site. With serial ports disappearing from computers, USB interfaces like this will be increasingly necessary.
European NI-CAD Batteries From AR Newsline
Ni-Cad batteries will soon be a thing of the past in Europe. On 26-Sep a new European Union directive comes into force preventing the importation of Ni-Cad and certain other batteries into Europe. In April of 2004 the European parliament voted to ban Nickel-Cadmium batteries based on them being an ecological hazard. At that time the parliament also adopted restrictions on the use of lead in batteries. It says the lead content can be fully replaced by environmentally preferable Alkaline Manganese batteries. And what about the impact of this ban on ham radio gear? According to information from Icom U-K, Ni-Cd batteries for their equipment will only be available until its stocks are exhausted. Icom says that alternative types of battery for current equipment have been available for some time, so there should be no problem in finding an substitute. But Icom U-K says that for older equipment where Ni-Cd was the only type of battery available, replacements may not be available.
RFI Stories From Multiple Sources
A new emergency radio system serving a couple of Texas towns may be causing a rather watery problem for its neighbors. The police transmissions have been setting off an expensive network of radio-controlled sprinklers used for parks and road median strips. The new emergency system also interfered with radio equipment that monitored the levels of three water towers.
A Tampa newspaper reported a CBS station signal may be causing a plague of alarms going off or not working. The Federal Communication Commission said an antenna on the Colonial Bank building that broadcasts CBS oldies station WRBQ(FM) at 104.7 MHz "uses a radio frequency that emits a harmonic that could sync up with the frequency used by some car alarms," according to a UPI summary story. "WRBQ is not in violation," the account quotes the FCC case report, "and the car alarms in question are required to be designed to accept/reject (the interfering frequency)." The newspaper said others think the problem could be traced to police car transmitters or wireless phones.