OSCAR News - July, 2ØØ8
OSCAR Meeting
The next OSCAR meeting is 12-Jul @ 9:00 AM, the second Saturday of the month. Meetings are held at the Happy Chef on US-14 West and I-35.
SKYWARN Meeting
The next SKYWARN meeting is 15-Jul @ 7:00 PM, the third Tuesday of the month. Meetings are held at the Owatonna Fire Station.
Local News

Dan KCØUOR graduated from Owatonna High School with Distinction.
Field Day
A good crowd of folks participated or visited. Those that participated in operating and/or logging include Dale WBØPKG, Dave WBØVAK, Mike KDØDKC, Marv NØFJP, Deuel NSØL, and Tim KDØDKA. Earning honors for staying all night at the site include Dennis NØRPI, Dennis NØRPJ, Tony WØIU, Kevin KDØAJB, Matt KAØPQW, Jeff KCØUOW, and Tom NØUW. Along with many friends, the Director of the Steele County Red Cross, Kim Purscell, visited the site.
Sloppy Joe's were provided for lunch by Jeff KCØUOW, brats were grilled at dinner, and that wonderful breakfast Spam for breakfast. Matt KAØPQW devoured the CW sub-bands. Pictures are posted in the Archives section.
The group operated NØUW as 3A-MN, achieving 459 CW, 489 phone, and 11 digital contacts. All but 5 ARRL sections were contacted. Bonus points were earned for 100% Emergency Power, Media Publicity, and Set-up in Public Place. More summary details are:

| | | | | |
| --- | --- | --- | --- | --- |
| BAND | CW QSO | Digital QSO | Phone QSO | |
| 80 | 0 | 0 | 45 | |
| 40 | 292 | 0 | 120 | |
| 20 | 121 | 11 | 146 | |
| 15 | 46 | 0 | 54 | |
| 10 | 0 | 0 | 66 | |
| 6 | 0 | 0 | 58 | |
| Totals | 459 | 11 | 489 | |
Many thanks to:
Dale WBØPKG for organizing the event.
Dennis NØRPI for providing the networked logging system.
Roger Swearingen for bringing the EOC trailer to the site.
Tower Maintenance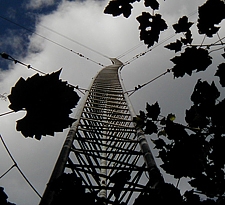 We all know that towers and antennas never work right unless they are installed in a snow storm. Summer is the perfect time, however, to check out that tower and make sure it doesn't look like the one at right.
Metal Detector Made From a Calculator And a Radio From Wired
A post on the Instructables web site suggests how to build a metal detector from just a radio and a calculator. The detuned radio is taped to the back of the calculator and switched on. When the assembly passes near metal, the radio emits a metal detector sound. The explanation offered is the metal reflects RF radiation from the calculator which is then picked up by the radio. What's your explanation?
Nano Transistors From Science Daily
Transistors are an indispensable building block in electric appliances. Researchers have developed a new type of transistor using nanotechnology, that is 50 times more energy efficient than today's models. Using nanotechnology, means that the material is self-organized according to a bottom-up principle instead of being "carved out," which is the conventional method. Ultimately, the researchers hope to develop transistors that can communicate in entirely new frequency areas. Today's electric appliances use 3–10 GHz. The hope is to reach 60 GHz, which is a considerably broader frequency range.
Interoperability Video From ARES E-Letter
There is a very current video that addresses progress on interoperability among first responders, and the technical, funding, and political challenges that still dog this issue. It can be viewed at: Homeland Security Today Magazine.
Tunnel Sweet Spot From Science Daily
Underground tunnels are normally a difficult place to communicate from by radio. Researchers at the National Institute of Standards and Technology (NIST) have confirmed that underground tunnels can have a frequency "sweet spot" at which signals may travel several times farther than at other frequencies. Tunnels can channel radio signals in the right frequency range because they act like giant waveguides. The optimal frequency depends on the dimensions of the tunnel. For a typical subway-sized tunnel, the sweet spot is found in the frequency range 400 megahertz (MHz) to 1 gigahertz (GHz). The tunnel study and another report mapping signals in 12 large building structures are available on NIST's Metrology for Wireless Systems Web page.
EMCOMM Course From REACT International
REACT placed on line an emergency communications course. You can download the course for free as a 735Kb ZIP file.
Romeo, Sierra, Tango, Uniform From Minnesota WeatherTalk
No, those aren't the names of Cathy Wurzer's horses. They are the names of the primary time zones across the USA. The military and Nato organizations need to refer to time zones as they run from pole to pole and cross the landscapes of many countries. In order to do so, they give them names. Romeo corresponds to the USA Eastern Time Zone, Sierra is the USA Central Time Zone, Tango is the USA Mountain Time Zone, and Uniform is the Pacific Time Zone. Interestingly, the time zone that transects Hawaii and Tahiti is called Whiskey.
70cm Robot From AR Newsline
The FCC issued a Public Notice seeking comments on a proposal to allow a robot to operate on 430-448 MHz. The remotely-controlled surveillance robot would be limited for emergency use. Although the limited power of the device probably would not cause significant interference, it may be difficult for hams not to interfere with the surveillance device. One thought, however, is that interference could result in a petition in the future that might pose a risk to amateur use on 70cm.
Repeater Mapping
An online repeater mapping tool is available. You can type in a location and it will generate a Google map listing the repeaters in the area. The database used is suspect, but it may show an otherwise unknown or uncoordinated repeater. For a list of coordinated repeaters in MN, go to MN Repeater Council.
Five Band Radio From HS Today
The city of Phoenix, Ariz., will become one of the first metropolitan areas to receive prototypes of a new radio. In the quest for interoperability, DHS announced a contract to Thales Communications Inc. for production of multi-band radios. The Thales Liberty is a single portable that operates on all of the major public safety bands--VHF, 136-174 megahertz, UHF, 380-520 megahertz, and 700-800 megahertz. The radios adhere to standards published by the Telecommunications Industry Association under Project 25, which provides guidance for equipment that provides digital two-way radio communication for first responders.
Cell Phone Communication From USA Today
A study may shed light on why talking on a cellphone appears to make drivers prone to accidents. Volunteers were asked to take part in a series of visual tests on a computer while listening to information about, for example, setting up a fish tank or finding north by using the sun or stars. They were then asked questions about what they had heard. The volunteers did much better on their visual tasks when they were just listening, as opposed to preparing to speak or speaking. When they were listening, if the demands on their brains became too much, they could just tune out what they were hearing. The study also found that when the audio came from the same direction that participants were facing to do their visual tasks, they did better on them.
DTV Wrinkles From Multiple Sources
The government-ordered switch to digital television broadcasting next year promises razor-sharp picture and orchestra-like sound. What new digital audiences have to fear is the "digital cliff," or the all-or-nothing quality of digital reception. Digital signals are more sensitive to disruption, so the sound mutes and the screen freezes, sometimes dissolving into a cascade of pixels. Some consumers may have to buy extra equipment to reliably pull in as many channels as they did before the switch, especially if they live in rural areas or near tall trees or buildings. One estimate suggests about half of the households will need a new antenna.
The Consumer Electronics Association (CEA) and the National Association of Broadcasters (NAB) are offereing a tool to help with antenna selection. The AntennaWeb.org mapping program locates the proper outdoor antenna to receive your local television broadcast channels. Based on geographical maps and signal strengths, AntennaWeb locates the best antenna for you — whether the antenna is for use with a home satellite system, high-definition television (HDTV) or a traditional analog set.
CORES Upgrade From FCC
The Federal Communications Commission (FCC) implemented several enhanced security features into the Commission Registration System (CORES). These enhancements protect privacy and personally identifiable information. Current passwords are not affected by this change. However if you opt to request a new password or reset a current password you must comply with new security enhancements:
Stronger passwords
Invalid Login attempt lockout after five unsuccessful login attempts.
Social Security Number (SSN) Masking
Electricity From The Exhaust Pipe From Science Daily
Researchers are working on a thermoelectric generator that converts the heat from car exhaust fumes into electricity. In automobiles, two-thirds of the energy from the fuel is emitted unused in the form of heat. Thermoelectric generators (TEG) convert heat into electrical energy by making use of a temperature gradient. Exhaust pipe temperatures can reach over 1200 degrees and could feed the energy into the car's electronic systems. The estimate is to be able to cut gas consumption by between five and seven percent.
Geomagnetic Field From New Scientist
The Earth's geomagnetic field traps charged particles in two concentric belts that gird the planet. Particles can escape the outer belt in about a week, but the inner belt can hold onto particles for about a year. That could potentially lead to a dangerous buildup of particles after solar storms or a nuclear blast in space. High levels of charged particles could damage global positioning and other types of satellites that orbit in the Van Allen zone. Previous observations had suggested that very-low-frequency (VLF) radio waves (from 5 to 25 kilohertz) transmitted on Earth were helping to clear particles from the inner belt. At night, when more VLF signals can pass through the Earth's atmosphere, a French satellite called DEMETER measured more electrons near the inner belt when a powerful transmitter in Australia was turned on than when it was off. Interestingly, the new work suggests researchers have never observed the Van Allen belts as they are "naturally". That's because VLF radio transmitters have been used since at least the 1920s to send telegraph messages and communicate with submarines, and the belts' existence was only confirmed in 1958. Concerned about possible damage to vital military satellites, the US Air Force has devised a plan for "radiation belt remediation" by sweeping excess charged particles from the radiation belts with 20-kilohertz radio waves from a satellite transmitter.
Satellite Interference Grows From Radio World
Intelsat is the largest provider of fixed satellite services worldwide. Recent comments by teh VP of network operations suggest the problem of interference to the satellite signals of broadcasters and others is getting worse. While most interference is not intentional, it is suggested that a small amount is deliberate and some of it politically motivated. The suggestion is for encoders to include data that would identify the source of the signal, to help pinpoint where interference is coming from.
Wind Farms Interference From USA Today
The spinning blades and turbines to generate electricity on wind farms can disrupt radar systems. When the blade tips reach a velocity of 170 mph, they create clutter in Doppler systems. A wind farm located close to a border might create a dead zone for detecting intruding aircraft; current weather radar software could misinterpret the high apparent shear between blade tips as a tornado; current air traffic control software could temporarily lose the tracks of aircraft flying over wind farms. The Defense Dept. wants to eliminate any wind farm near radar sights that might cause a problem. A defense science advisory group, however, suggested several possible mitigation techniques in a report.
RFID RFI From New Scientist
RFID tags communicate with a receiver via radio waves and are increasingly common in hospitals tracking medications, spot surgical sponges left inside patients, and even identify patients themselves. Dutch researchers indicate wireless scanners could have disastrous consequences in hospitals. The group previously found cell phones could interfere with hospital equipment. The team tested two RFID systems and dozens of medical devices, none of which were connected to patients. In 123 tests of 41 different pieces of equipment, the devices malfunctioned 34 times – 22 of the glitches were deemed serious enough to affect patients. For instance, eight of nine syringe pumps, which trickle medicine to patients, failed completely when exposed to an RFID field, anywhere between a centimetre and a meter away from a transmitter. In the US, the FDA issued a set of draft guidelines that identified RFID technology as a potential safety concern. Its policy would recommend, but not require, that manufacturers design their devices to minimise interference. It is working with manufacturers to develop standards and has tested some devices, such as implantable pacemakers.