OSCAR Membership
If you want to be part of the OSCAR organization, contact Charlie KØHNY. Dues are only $10 per calendar year.

OSCAR Elections
Elections for the 2004 officers will be held at the January meeting, 10-Jan.

Technician Classes
Note on the Calendar page that the Bloomington and Rochester groups are both having weekend Technician license classes in February.

Kid's Day 2004
The first 2004 running of this popular operating event will be Sunday, January 4 (the second Kid's Day in 2004 will be Saturday, June 19). Intended to encourage young people--licensed or not--to enjoy Amateur Radio, Kid's Day offers a "mentoring opportunity" for experienced amateurs while giving youngsters some first hand hamming experience, perhaps sparking a lifelong interest. Now entering its tenth year, each running of Kid's Day typically attracts more than 1000 participants.

Kid's Day is not a contest, and patience is the byword on both sides of each contact. The role of the licensee and control operator is to help youngsters with the basics, keep an eye on the technical aspects of the operation, observe third-party traffic restrictions when making DX QSOs and ensure station identification at proper intervals. In this event, it's quality of the contacts that counts, not quantity.

Kid's Day will run from 1800 to 2400 UTC, and there's no limit on operating time. The suggested exchange is name, age, location and favorite color. Stations may work the same station again if an operator has changed. Call "CQ Kid's Day." Suggested frequencies are 14.270-14.300, 21.380-21.400 and 28.350-28.400 MHz plus 2 meter repeater frequencies, with permission from the repeater's sponsor). Guidelines for this event are available on the ARRL Web site.

All participants are eligible to receive a colorful certificate. Visit the ARRL Kid's Day Survey page to complete a short survey and post your comments. You will then have access to download the certificate page. Or you can send a 9x12 SASE to Boring Amateur Radio Club, PO Box 1357, Boring, OR 97009. From ARRL

FEMA Comments on BPL
FEMA responded December 4 to last April's FCC BPL Notice of Inquiry, ET Docket 03-104. Now part of the Department of Homeland Security--the agency said its primary worry is BPL's potential impact on the FEMA National Radio System (FNARS) on HF. FNARS is FEMA's primary command and control backup medium under the Federal Response Plan. "FEMA has concluded that introduction of unwanted interference from the implementation of BPL technology into the high frequency radio spectrum will result in significant detriment to the operation of FEMA radio systems such as FNARS," FEMA asserted.

"FNARS radio operators normally conduct communications with signals that are barely above the ambient noise levels." FNARS HF stations, FEMA said, typically are in residential areas of the sort that BPL might serve. FEMA said BPL also could render useless such "essential communications services" as the Radio Amateur Civil Emergency Service (RACES), the Military Affiliate Radio System (MARS) and the Civil Air Patrol.

The agency advised the FCC to beef up its Part 15 rules to ensure no increase in interference levels to existing FCC or NTIA-licensed communication systems. Otherwise, FEMA predicted, "any noise increase inevitablywould diminish the ability to maintain essential communications" and would "directly impair the safety of life and property." Likewise, FEMA pointed out, amateur HF transmitters could possibly interfere with and interrupt BPL service, leading consumers not familiar with Part 15 to blame licensed radio services. Concluded FEMA: "The purported benefits of BPL in terms of expanded services in certain communications sectors do not appear to outweigh the benefit to the overall public of HF radio capability as presently used by government, broadcasting and public safety users." From ARRL

Power Connections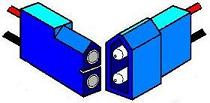 At the December OSCAR meeting, Tom NØUW demonstrated alternative power connections. For a long time ARES and RACES organizations standarized on the Molex 1545 connector set (shown at right). These were available at Radio Shack and easy to put together. The biggest drawback to them is they are rated for only 8 Amps, not enough for a modern 50W 2-meter rig. Trying to crimp 12 gauge wire was difficult, if not impossible.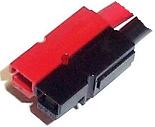 The newer standard being adopted is the Anderson PowerPole (shown at left). These connectors are rated for 30 Amps and are "genderless". You use the same connector for the power side and load side. They are sturdier than the Molex connector and readily accept 12 gauge wire. About the only concern in using them is making sure you orient the red and black connectors properly. The orientation in the picture the ARES standard. See the Misc. Info section of the OSCAR web site for additional information on assembly of PowerPole connections.
A set of 10 pairs (one red and one black) of the PowerPole conenctors is $10.95 from AES. A bulk source for housings and contacts is H.M. Cragg in Bloomington. For the $25 minimum, you can get 30 pairs. They are certainly also availble at many hamfests.
A suggested power cable is the paired cable from Cable Experts. The cable is similar to "zip cord", but is red and black. It has similar ratings as automotive wire. The insulation on conventional house wiring may fail in an automotive applications (e.g., temperature, moisture, gasoline, oil). The AZ10 (10 gauge) is $0.39 per foot and AZ12 (12 gauge) is $0.29 per foot from AES. Buying a 100 foot spool saves about $9.00.
Consider adopting the PowerPole standard if you are doing any wiring of rigs or accessories.
Morse Code Isn't Dead
The 2003 World Radiocommunication Conference (WRC-03) may have eliminated the treaty requirement for prospective amateurs to demonstrate Morse code proficiency to gain HF access, but the International Telecommunication Union (ITU) hasn't forgotten Morse code altogether. A study group agreed on the wording of a draft that specifies the international Morse code character set and transmission procedures. It also includes a new Morse code character to cover the "@" symbol used in e-mail addresses. The draft proposes using the letters A and C run together (.--.-.) to represent the @ symbol. From ARRL
How a Bug Key Works
Anyone wishing to see how a bug key works can visit www.ae4rv.com/tn/education/bug.htm This is an interactive site that shows the moving parts of the key operate when the paddle is moved from side-to-side. From morsemag
Free Subscription to ATVQ
If you are out of work and would like to have something to read, has Amateur Television Quarterly Magazine got a deal for you. How about a free one-year subscription to their flagship magazine? To qualify, you must be normally employed and not retired. Also, the offer is limited to the first 100 to apply.
To take advantage of this one time offer, send a letter by U-S mail requesting a free subscription and stating that you are temporarily out of work. The address is Holiday Offer - ATVQ, 5931 Alma Dr. Rockford, IL 61108. Sorry, the magazine will not accept e-mail subscriptions for this one time offer. From Amateur Radio NewsLine
73 Magazine archives
We reported in November that 73 Magazine was QRT. Buckmaster Publishing is archiving the complete (1960 to 2003) 73 Magazine to view online at the hamcall.net website. To do this, the HamCall staff scanned every issue in full color, cover-to-cover, making every page identical to the paper magazine. on a subscription basis. Buckmaster now has a test version of what eventually will become a fee-based service. Want to try the free on-line demo? You can. Simply take your browser over to www.hamcall.net and click on the words 73 Magazine Archives. Compiled From Various Sources
A Bug in Your Car?
It was recently reported the FBI used a dashboard communications systems (e.g., OnStar) to monitor a conversation within the vehicle without the occupants knowledge. After learning that some OnStar type systems could be remotely activated to eavesdrop on conversations after a car was reported stolen, the FBI realized these gizmos would be useful for bugging vehicles.
A federal appeals court has ruled that the FBI and other police agencies may not eavesdrop on conversations inside automobiles equipped with dashboard communications systems, but not due to privacy grounds at all. Since the FBI monitoring required parts of the system to be made inoperable (e.g., auto alert if the air bags activated), the court deemed that the FBI was actually interfering with the contractual relationship between the service provider and the customer. If the surveillance had been done in a way that was seamless and undetectable, the court may not have a problem with it. Compiled From Various Sources
New Atlanta VHF/UFH Beacons
Back in the United States, Gary Bailey, WA4IOB, invites VHF operators to listen for his new 2 meter and 70 centimeter beacons. The transmitter are located in grid E M 73 near Snellville, Georgia about 25 miles east of Atlanta. The mode is CW on 144.285 MHz and 432.352 MHz with 2 watts output on each band. The 2 meter transmitter feeds a horizontal square loop. The 70-centimeter antenna is 4 half wave dipoles in a 90-degree horizontal quadrature configuration feedwith a 4-way power splitter. Both sign the call B B B W-A-4-I-O-B slash E M 73. Signal reports go to grb734@bellsouth.net From Amateur Radio NewsLine
RFI Enforcement
And a big win for a Pennsylvania ham that could be precedent setting. The FCC has written to the lawyer representing the Pine Ridge Community Association in the city of Stroudsburg. The note informs the counsel that his interpretation of the Community Association's obligations under Part 15 was incorrect and that the Association is required to investigate the source of its radio frequency interference to an Amateur licensee residing within the Association's property. From Amateur Radio NewsLine
ULS System Makeover
The FCC is preparing to put a new face on the Universal Licensing System (ULS), which includes the Amateur Service. Among other features, the ULS makeover will include easier-to-read on-screen forms that guide users through filing and simplify such routine tasks as applying for license renewal, address change or vanity call sign.
ULS License Manager will be compatible with most, if not all, major Web browsers and computer platforms and no longer will require downloading Java and Java Script files. Screens also will be compliant with Web screen-to-voice reader software. The ULS will require all filers to log into the system using an FCC Registration Number (FRN) and Commission Registration System (CORES)password. The FCC said it would no longer accept a Taxpayer Identification Number (TIN)--a Social Security Number for most individuals--for log-in purposes.
There's also a new paper version of FCC Form 605, dated December 2003. One change is that Form 605 no longer requests a date of birth and will only accept an FRN and CORES password. There are no Amateur Service-related changes to any Form 605 schedules. The FCC says Amateur Service applicants may continue to use the March 2001 (or later) edition of Form 605, although it encourages use of the newest version. The new FCC Form 605 now is available via the FCC Web site. From ARRL
Something to Sell or Buy? Something to Add?
Don't forget the "classified" section of the OSCAR web site. The editor is always looking for ideas and submissions for future newsletters. Send ideas, articles, event dates, and updates.